Finer Options

Curry Chicken Bouchee topped w/ Mango and raisin chutney

Petite dhal rounds with roasted chicken and garbanzo curry

Parmesan Chicken Bouchee topped with roasted cherry tomato

Bruschetta

Sweet Pickle Prawns and Cucumber with Avocado

Stuffed Arancini w/ Smokey marinara sauce

Cantaloupe Melon with Prosciutto and Blue Cheese Cream

Smoked Salmon & Dill Cream Rillettes

Crusted salmon & sweet potato croquettes topped with lemon & caper

Spinach and smoked bacon frittata topped with torched mozzarella and sundried tomato

Seared spiced pork topped with plantain and spinach chutney

Market fish Ceviche Boat

Idaho Potato Crisps with Hummus

Spinach and Herb Fritters

Seafood Cakes with Homemade Tar Tar

Mini British Crab Cakes with Honey Mustard infused Tarragon Cream

Mini British Fish Cakes with Parsley and Lemon Cream (Deep Fried)

Stuffed Mac and Cheese Balls with spicy Marie Rose sauce

Chargrilled marinated courgetti with scallion Ricotta and garden pesto

Mini Caprese Skewers with Pine Nut Crumble and Balsamic Reduction

Chargrilled seafood Kebab with citrus segments and tropical fruit served with zested Tar Tar sauce

Chicken and Mushroom kebabs served with tarragon and roasted garlic aioli

THESE OPTIONS ARE USD $13 PER PERSON, PER CANAPE & ARE SERVED AT (2) TWO PORTIONS PER PERSON, PER CANAPE.

Higher End Options

Mini Tuna Tar Tar with Wasabi and Ginger Soy Dressing and Mini Wonton Crackers

Mini wagyu Beef Sliders with Roasted Garlic and Rosemary aioli and Truffle cartelized onions

Assorted Sushi/ Sashimi selection

Scallops in Butternut Squash and Aged Parmesan Purèe with Pumpkin Seed Crumble

Foie Gras Parfait on Butter Seared Brioche with Balsamic and Port Droplets and Cognac Apple chutney

Assorted Cheese platter with Crackers, fresh fruit and artisanal jam

THESE OPITONS ARE USD $22 PER PERSON, PER CANAPE & ARE SERVED AT (2) TWO PORTION PER PERSON, PER CANAPE.

Sweet Options

Coconut rounds topped with Malibu cream.

Belgian chocolate mousse cups with fresh berries.

Passionfruit Cheesecake Tartlets topped with tropical Coulis.

Profiteroles filled with Baileys cream and drizzled with Caramel.

Fruit Cocktail cups tossed in light Bay leaf syrup.

Hazelnut Brownie Rounds topped with Ganache and quartered strawberry.

Signature Eclairs dipped in Mango drizzled with dark chocolate and filled with Sour sop cream.

Spiced Apple Crumble Tartlet.

Spice roasted pumpkin Panna cotta.

Carrot cake squares topped with Cream cheese icing and salted caramel.

THESE OPITONS ARE USD $8 PER PERSON, PER CANAPE & ARE SERVED AT (1) ONE PORTION PER PERSON

CANAPE PACKAGES INCLUDE BUT ARE NOT LIMITED TO:

(3) THREE OPTION CANAPE PACKAGE FROM OUR FINER SELECTION FOR USD $35 PER PERSON.

CANAPES CAN BE CUSTOMIZED, AS WE TRY TO ENSURE OUR CLIENTS ARE SATISFIED.

ANTHING REQUESTED CAN BE SOURCED ONCE THE REQUEST IS MADE CLEAR AND IN TIME BASED ON THE REQUESTED ITEM.

N.B: Canape packages are designed and priced for four (4) persons plus. If customer head count does not satisfy such number, the customer will have to purchase package at minimum head count requirement.

Menu #1

Bread Service

Warm Garlic Rolls and Love Knots served with Churned butter, olive oil and balsamic.

Appetizer

Creamy smoked salmon pasta rolled and served with fresh arugula and crispy capers, finished with zest of lime and edible flowers.

Mains

Plantain and spinach stuffed chicken breast served with herb crushed sweet potato, sesame roasted veg and Tarragon jus.

Dessert

Coconut cake gateau served with shaved dark chocolate fresh berries and coconut sorbet on passion fruit coulis.

Bds $210 per person

Menu #2

Bread Service

Warm Ciabatta squares and Herb & Cheddar rolls served with Churned butter, olive oil and balsamic.

Starter

Crusted fish and herb croquette served atop petite salad and topped with lemon and caper aioli.

Main

Red Thai Seafood curry featuring Mussels, Clams, Prawns, Local spiny lobster and fish bits tossed with roasted root veg in a Mild coconut curry sauce. Served with Cilantro Basmati and crispy pompadom.

Dessert

Mango and Malibu cheesecake tart topped with fresh fruit compote and minted whipped cream.

Bds $225 per person

Menu #3

Bread Service

Warm Ciabatta squares and Sliced French baguette served with Churned butter, olive oil and balsamic.

Starter

Seafood pumpkin and lemon veloute served with seared scallop, prawn and fresh market catch, finished with micro greens and toasted garlic and dill crouton finished with shaved aged parmesan.

Main

Slow cooked thyme scented lamb shanks served with smoke scented corn risotto, confit cherry tomato expression, mint pesto drizzle and braising jus.

Dessert

Hazelnut and vanilla creme brûlée, torched to perfection topped with confectionery sugar, fresh berries and edible flower petals.

Bds $ 255 per person

Menu #4

Bread Service

Warm Multi grain rolls and Sliced French baguette served with Churned butter, olive oil and balsamic.

Starter

Roasted ratatouille tart topped with torched and cilantro pesto

Main

Crispy duck leg confit with Chinese five spiced sweet potato purée, roasted field veg and lentil and bora bean Ragu.

Dessert

Chilled Italian Tiramisu dusted with Cocoa topped with fresh berries and drizzled with Chocolate and rum infused caramel.

Bds $240 per person

Menu #5

Bread Service

Warm Multi grain rolls and Sliced French baguette served with Churned butter, olive oil and balsamic.

Starter

Confit duck leg on Chinese five spice scented pancake with rum, blue berry and apple compote. Drizzled with sesame hoisin.

Main

Ginger and tandoori infused chargrilled veal chop served with scallion infused patate douce purée and roasted honey glazed heirloom carrots finished with pink peppercorns and Bordeaux rosemary jus.

Dessert

Elegant Trifle layered with Belgium chocolate ganache finished with Madagascan vanilla sponge and topped with a brûlée orange meringue.

Bds $275 per person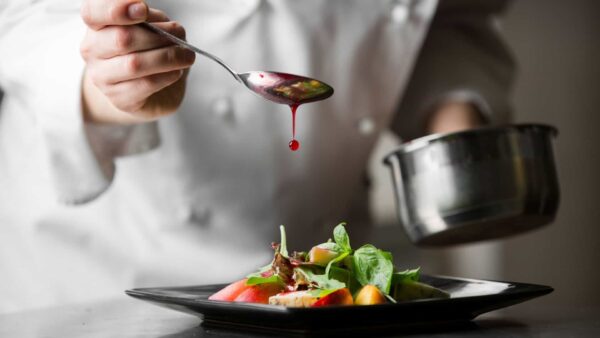 Classy culinary execution of large or small events, encompassing the complete F&B package, uniformed, friendly and professional staff with optional service styles to suit your event.
To get started, please fill the below form and we'll be in touch within 24 hours.